Class 5 is made up of 30 curious and creative children. Our class teacher is Mrs Bradly and our teaching assistant is Mrs Cooke. We have support in class from both teaching and TA trainees. In Year 1 we work hard to become magnificent at Maths, fantastic at Phonics and excellent at English! Alongside our formal learning we also get to spend part of the day discovering in the Continuous Provision. We also enjoy investigating a wide variety of important questions including:
How can we create a Dark Den for our classroom?
Is Nottingham Castle a real castle?
Would I rather live in Sandiacre or at the seaside?
You can see our long term curriculum overview in Year 1 by clicking HERE. Please note this was updated in the middle of the 2021/22 academic year.
On our webpage you will find updates on our learning and important information. This will also be communicated on Class Dojo where further regular updates will be shared so please make sure you are connected.
You can also find our "Welcome to Year 1" powerpoint from our Open Evening here.
Some parents asked at the meeting about how to help with maths at home and which resources are good to get: click here for some suggestions!
Take a look around our classroom and Y1's enahnced provision area, Discovery Cove:
Useful information
Click HERE for more information on spellings and flashcards that come home to practise.
You can find the spellings from this term from this link. We test spellings on a Tuesday, always starting from the first week of a new term.
Our PE lessons are on Wednesdays and Fridays. Please come to school dressed in PE kit on these days.
The children take part in reading activities every day and they need their reading books in school every day. Thank you for all your support reading with your child at home - it makes a huge difference!
At Ladycross we are lucky to have such fantastic children who are inspired and engaged with their learning. We work hard to create resilient and independent learners who understand that "mistakes are magic" and that "climbing out of the dip" is part of the learning progress. In Class 5 we love to grow our brain with new and exciting learning adventures! See below for some of the ways we are challenging ourselves in Year 1 throughout the terms.
Spring Term 2
This term our topic is continuing with "What is exciting about where we live?". We will be learning about Nottingham Castle, our local castle and thinking about how it has changed over the centuries. We are very excited to be going on a school trip to Nottingham Castle! We will also be exploring materials and creating our very own castle in DT! We will be producing lots of English work around Robin Hood as well as becoming amazing authors again, writing a longer story based on "The Kiss that Missed".
Spring term 1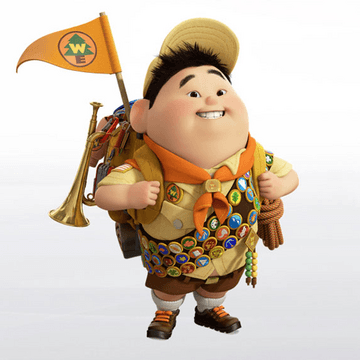 This term our topic is "What is exciting about where we live?" Our question for topic this half term is "What would Russell from "Up!" find exciting about Sandiacre?" We will be learning all about our local area and will be doing a local walk around Sandiacre to see what we can find. We will also be comparing the art work of Lowry and Hundertvasser and then we will design and create our own piece of artwork in the style of one of these artists. In Science we will be learning about how we can stay safe in the dark.
Click here to view the Knowledge Organiser for this topic.
Autumn Term 2
This term our topic is "Shine a Light". We will be learning all about the celebrations that happen in Autumn, including exploring Bonfire poetry, the Gunpowder Plot and light and dark. We will look at Diwali, Hannukah and Christmas. We will be looking at the story "Owl Babies" as well as producing instructions to make a Christmas craft and rewriting the Nativity story.
Click here to view the Knowledge Organiser for this topic.
Autumn 1
This term our topic is "All Around Me". We will be learning about our new class and how we all belong to the Ladycross family; a theme that will include making maps of our school. We will then be thinking about what it means to belong to a faith community in RE and will be exploring different faiths. We will also be learning about different animal types and even making zoos for our animals to enjoy! In English we are looking forward to becoming authors, retelling The Little Red Hen and Farmer Duck as well as using our knowledge of "We're Going on a Bear Hunt" to create our own animal hunt books!
Click here to view the Knowledge Organiser for this topic.
Victoria Road, Nottingham, Nottinghamshire NG10 5JD
01159397379
info@ladycross.derbyshire.sch.uk